Mango Yoga Venues | Gallery
The Mango Shala has been upgraded with a beautiful hardwood floor. It's a 12 x 12 meter structure that can comfortably fit 30+ students. Fully kitted out with props.
The Nest and the Perch, the extra shala's at Mango Tree are for when groups require a more private and intimate space. They are perched on the 2nd floor overlooking the rice and buffalo fields lined with coconut palms.
Nest/Perch
---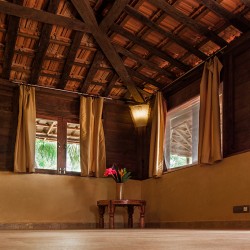 Mango Shala
---