The Universal Body
January 21-30, 2020
Goa, India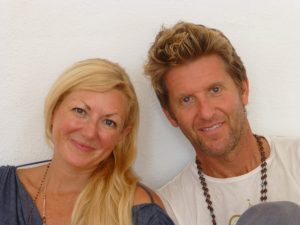 Are you longing for a deeply regenerative Body/Mind/Spirit experience?
And are you ready for that experience to manifest within the loving arms of Mother India?
We, Marc Holzman and Tara Judelle, invite you to a 9-day immersive retreat into the Science of Ayurveda and Embodied Flow™.  For over a decade we have been collaborating and entwining our individual passions in retreat locations around the world, and this year our destination is India – the birthplace of Yoga.
The Universe, with its five elements, has a dynamic body that intelligently mirrors our own individual, dynamic body. When these two bodies are in synchronicity the stage is perfectly set for healing and regeneration.
Traditional hatha yoga, free movement, lectures, mantra, and meditation are just a few of the ways we'll move into integrity with Nature's Rhythms.
Over and again we have witnessed the magic that happens when our practices seamlessly merge to create a higher Mind/Body/Spirit frequency.
Samata Holistic Retreat Center in North Goa is our destination.
Created by Ayurveda, Tibetan, and Traditional Chinese Medicine practitioners, Samata is world renowned for its healing capacity and is supported by its loving staff, expansive organic gardens (from which all Ayurvedic meals are prepared), and the pure vision of its founders. The food will astound. The environment will inspire.
Samata operates as a non-profit to support The Dunagiri Foundation for Himalayan Herbal Research and Yogic Studies.
To read more about Samata Retreat Center CLICK HERE
To find out more about the Dunagiri Foundation CLICK HERE
In your free time, you can swim in the ocean, visit the local coastal villages of Arombol, Mandrem, and Ashvem, or find a variety of cultural excursions in this Portuguese influenced land. Or simply choose to luxuriate in treatments onsite by a dedicated staff of first-class healers, body workers, Ayurveda practitioners, Vedic astrologers and more.
We promise a transformational journey.
Welcome.