Tamarind Tree Property : Non-residential Retreats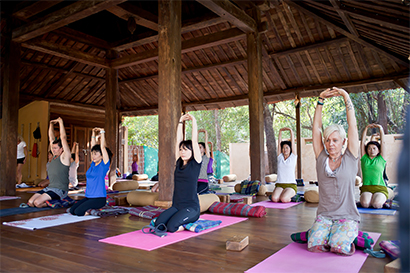 Samata's Tamarind Tree Property is located a short 10 minute walk from our Mango Tree Residential Retreat Property. This is for groups who would like to host their retreat on one of our epic properties, but perhaps the group cannot afford to stay with us. When you book a non-residential retreat, you will have to organize housing from local houses in our neighborhood, of which there are many.
Property Includes:
Tamarind Temple Shala : see here in the photo to your right, a antique teak Joglo from the island of Java, originally built in 1836 and rebuilt and refurbished by us, as well as an all recycled teak wooden floor.  This Shala is kitted out for Iyengar teachers, as it has rope walls, and all the special props you would need to run a world class yoga retreat, and can fit up to 30+ participants. Complete with fans, lights, and mosquito nets, it's the best Yoga Shala in North Goa.
Catering Kitchen : While Samata's Amrit kitchen will be busy running our Residential Retreats, we will recommend a few restaurants which can cater for your group on the property, if you require it. We do provide a large, open-air structure with tables and chairs, a buffet table and hand washing area, so that your caterer has a place to serve the group.
Swimming Pool and Garden : Relax under the shade of a 200 year old Tamarind Tree, where you will be visited by the Langur Monkeys, and Giant Hornbills, and an assortment of other colorful birds. Listen to the trickling of the cascades of our three level pool with large patio area for sunbathing and relaxing.
Residential Options: Perhaps some of your guests do have the budget to stay with us, in which case we normally have a few extra rooms at the Mango Tree property, which is easily accessible by a 10 minute walk.
Contact us to find out about how our pricing to rent this property works… and YES there is WIFI throughout the property.