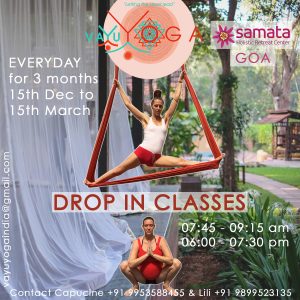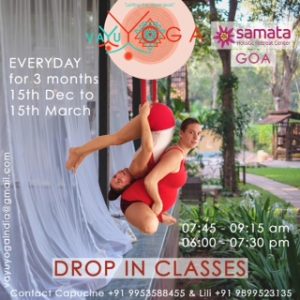 Moving from earth to space, from head to heart …
It is no longer necessary to struggle with our body on the ground …
We are learning how to fly!
How to practice Yoga suspended in the air… by a silk hammock
How to remember the cocoon of our mother's womb
The cradle and the swing of our childhood – both are like hammocks.
How to reconnect with the spark of our heart, which makes us fall in love, burst out of laughing, exploding out of Joy!
By practicing inverted asanas in suspension, we feel our blood flowing all over our organs.
We release our vital energy, our grace, our natural beauty
We are "Transforming the Way We Perceive the world" (Diamond Sutra)
As a tightrope walker, we develop our alertness and attention How to be Focused
Let's have fun! Trust our heart! Awake our nectar and listen to the silence in the innermost recesses of our heart…
"We are not going to change the whole world, but we can change ourselves and feel free as birds." The Yoga Sutra by Pantajali fl. (2nd c. BCE, compiler of the Yoga Sutra)
VaYu Yoga is in the continuity of the Patanjali Yoga, with this revolutionary anti-gravity approach adapted to the evolution of human consciousness in the 21st century. This is a visionary yoga:
Free from gravity, we don't feel the weight and stiffness of the body
We relieve our stress
We decompress… the spine, the back, the neck, the tight joints, the pelvic area…
We stretch effortlessly
We realign our vertebrae
We activate our blood circulation
We stimulate our pineal and pituitary gland It is a prop for deeper practice.
It does not matter our size, our shape, our experience…
Anyone can enjoy VaYu Yoga!